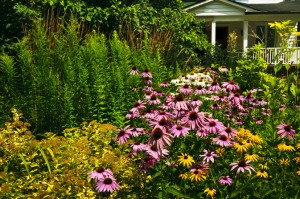 This comprehensive certificate program is designed to provide you with a high level of knowledge to practice herbology, in addition to your other natural health specialties, such as nutrition and iridology.
All subjects form part of the Natural Health Practitioner diploma program.
The course will present a thorough understanding of the human body and the inter-action of the practice of Herbalism on the individual, within a wholistic perspective. It will also provide a platform of how to use herbal preparations in support of other health disciplines and on an individual therapy basis. This knowledge supports the client's overall healthcare program, as they work towards restoring and maintaining health balance.
Now designed to complete the full certificate in 5 semesters!
This program does not require approval under the Private Career Colleges Act, 2005

"Pay as you go tuition plan" – tuition fees are paid at the time you take a subject
Herbalist Specialization (7 credits) Presentation: Online, live, 2 hours -1 weekday evening
Herbal Therapeutics 1
Herbal Therapeutics 2
Herbal Pharmacology
Materia Medica l & ll
Western Herbal Energetics
Clinical Case Studies
Click on "Request Info" on Top Bar to Request an Information Booklet