Registered Massage Therapist Jobs
Melissa Bennett from Massago  conducting a presentation to future graduates-October 30th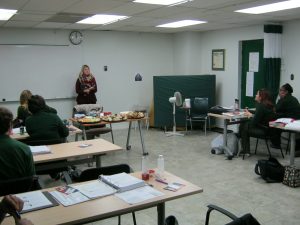 Employer Recruitment Sessions
Potential employers contact the Academy due to its fine reputation for graduating well trained, knowledgeable and client-friendly therapists.
International Academy of Massage is pleased to provide the job opportunity page and the related contact information, as submitted by prospective employers looking to hire the Academy's graduates. Historically the postings were only shown on the Academy's bulletin board and now, in order to reach out to its alumni, these opportunities will be also listed on the Academy's website. For employers wishing to present a job opportunity on this page, please contact the Academy.
Terms of Use – Registered Massage Therapist Jobs Page
While the International Academy of Massage lists the following job postings, links and email addresses as a convenient way of creating an awareness and the opportunity to make contact, the content is not necessarily under the control of Academy and as such, it is not responsible for the accuracy of a listing's contents, nor does it make any representation, warranty or endorsement of any listed employment opportunity, associated linked website(s) and the information provided therein. All content is to be considered as an 'as is' basis for use by graduates. The Academy will make its best efforts to keep this page 'fresh' however, it is reliant upon the potential employers to advise it if a job opportunity has been filled. We thank you for your understanding on the foregoing.
Registered Massage Therapist Jobs