Certified Reflexology Practitioner
This certificate program does not require approval under the Private Career Colleges Act, 2005.
Accredited by the Reflexology Association of Canada (www.reflexologycanada.org ) and
the Reflexology Registration Council of Ontario (www.rrco-reflexology.com)
Reflexology is a key component of the Natural Health Practitioner diploma program
The Reflexology Program:
Now presented in a convenient hybrid learning format…faculty led skill development sessions at the Academy, online live evening classes for reflexology theory, and 2-weekend courses for professional development.
8 Credits -approximately 130 hours of instruction plus 50 Clinical Practicum=180 hours
This program of study is presented in a manner that a student can complete the full certificate requirements within 5 semesters part-time…online 1 evening per week and in-person skill development on selected Saturday mornings.
The Academy has designed this career focused training program, to develop a thorough understanding of the human body and the practice of Reflexology on individuals, within a wholistic perspective. The program of study will examine the use of multiple reflex points throughout the body to address the client's needs.
Regulated Professionals are granted advanced standing for Professional Development and First Aid subjects.
Tuition: Pay as You Go Plan or Monthly Payment Program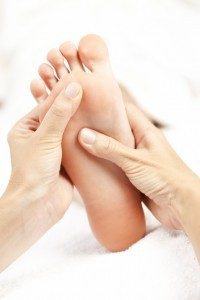 Reflexology Specialization
This will include 5 integrated
approaches to Reflexology through the feet,
hands, face, head and ears. The 5 regional anatomical approaches to
Reflexology enables the practitioner to develop multi-facetted treatment plans.
This also provides the practitioner with alternatives and flexibilities,
specifically when working with seniors and when treating clients with
disabilities, health conditions or in open space environments.
(6 credits –
approximately 130 hours in-class + 50 hours clinical practicum)
Reflexology 1-
Reflexology 2-
Reflexology 3-
Reflexology 4-
Reflexology 5-
plus
Clinical Practicum (Start after Reflexology 2)
The necessary knowledge of Anatomy and Physiology
for the program has now been designed into each credit to provide for relevant discussion
as techniques are learned
Professional Development (2 credits)

Professionalism and the Healthcare Practitioner (1/2 credit) Weekend Format Sat/Sun
Ethics and the Healthcare Practitioner (1/2 credit) Weekend Format Sat/Sun
First Aid – (1 credit)-May be completed at the

Academy (50% online self study and 50% live instruction) or as presented by
Ottawa groups such as the Red Cross, St. John Ambulance and National Capital
First Aid. The first certificate is required prior to being awarded a certificate.
Click on "Request Info" (on the top bar) to request an information booklet or call
Admissions at 613 820 4046.